The Golden South Sea Pearls
The golden South Sea pearls featured in LIZA CASTRO's pearl jewellery originate from a special saltwater pearl farm in the Philippines. LIZA CASTRO collaborates with this ecologically conscious saltwater pearl farm celebrated for producing the most lustrous cultured South Sea pearls.
The golden pearls are bred using a special method with careful consideration. Everything from the host oyster, the selection of plankton types for their diet, the varied salinity and ever-changing temperature of the South Sea, to the harvesting and re-seeding process of pearls, plays a role in the development of the special golden colour that characterises the valuable South Sea pearls.
All oysters go through over 370 different steps including a cycle in which divers turn the oysters underwater daily, retrieving the oysters, rinsing them thoroughly and generally nurturing them with "tender loving care" and know-how.
Less than 2% of the pearls will turn out perfect. Each one rare and unique in nature. No wonder they are so valuable.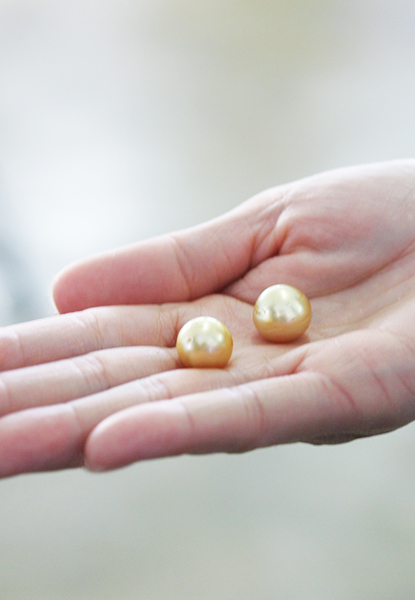 Sustainably cultured pearls
The golden South Sea pearl is the Philippines' national gem. From the breeding of new oysters, grafting and until the pearls can be harvested, almost five years will have passed.
It is often the same person who grafts the oysters and harvests the pearl. This process establishes a close connection between humans and oysters, a fact that makes pearl farmers treat their oysters, as if they were their own children. It requires extensive knowledge and know-how to cultivate the beautiful golden pearls. An expertise that has developed for decades at the saltwater pearl farm in the Philippines, a good hour's flight from Manila.